Voltron Force Ultimate Victory
Voltron Force is a sequal of the Voltron - Defender of the Universe series, and it aired for a year on the Nicktoons network begining in June 2011.
With minor changes, we still have the 5 pilot team in the center of the story. They control the flying lion robots and this time we also have several young cadets. Their main enemy is Lotor, who is trying to gain control over the entire Universe. If Lotor gets the 'dark energy' he will be able to destroy entire galaxies at once. Lions are strong enough to fight the Lotor's robots, but when the danger is immense and the opponent mighty, they combine and create the great Voltron robot.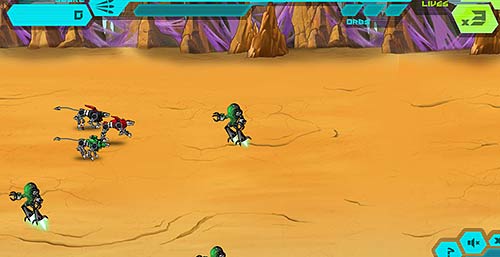 In this game we have several locations where the fight takes place against Lotor's robots: 'Arus Hot Plates', 'Tarvos Asteroid Belt', 'Arus Desert' and the new episode 'Planet Doom'. Most of you probably already know, but let's mention it once again for those less informed. Arus, mentioned in these episodes, is the name of a distant and very sparsely populated planet where Voltron's lions reside when not in use. Planet Doom is the enemy planet and is under control of Lotors father, king Zarkon.
The loins can be killed not only by the laser projectile and explosion but also if they run into the rock or any kind of hard obstacle. When you have more lions your firepower is much greater and you destroy your enemies much easier, but your lions are also more frequently damaged by the incoming obstacles.
Instructions
Lions are always together and they move as one using single control set on the keyboard. You shoot with spacebar. If you have a special weapon at your disposal you can change it using 'Z' or shoot from it using 'X'. Special weapons are gained by collecting colored orbs where every color correlates to te color of one lion, and so we have green, red, yellow, blue and black orbs. If you pick up a lion's head, the overall number of fighting lions increases by one. Enemy robots are mostly colored in red-blue combination.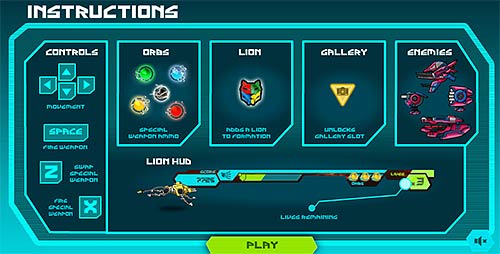 You may also like these games