Kogama Transformes Game – Select Your Team And Join Us
Kogama is an open platform very good for building 3d multiplayer games. This one is dedicated to Transformers. To be honest during a short play I didn't see Optimus Prime or Bumblebee as robots, but you can select to drive them as vehicles.
The first thing you want to do when you get inside the game is to follow a blue arrow to stand inside the glowing cube. It will get you right inside the game, at the top of a platform which floats in an ocean.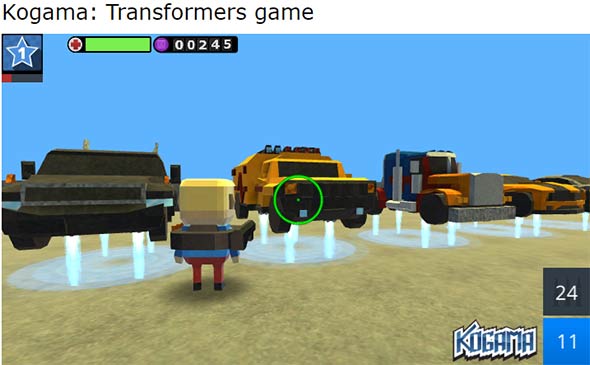 The moment you step your foot there you will probably see other players driving around and shooting. Don't try to understand what's going on there. Those are players just like you and they to are trying to figure out where they are and what are they supposed to do.
So, unless you want to just sit there and wait to get shot, your probably best bet is to pick one of the parked vehicles there, but only after you choose weapon.
Controls are the same in all Kogama games: left mouse click to shoot and 'E' to pick up things. You can move with WASD keys or with the mouse, doesn't matter.

You may also like these games