Go Robots 2
Two robots need to exchange places in order to get to their teleporting portals. This is a logic game where you need to do various actions in order to make safe passage for a robot to its destination. For instance, you will have to click on boxes to make them fall or disappear, cut the rope to let the large ball fall off, activate bombs, fall down rotating ramps to make a bridge between distant platforms and so on...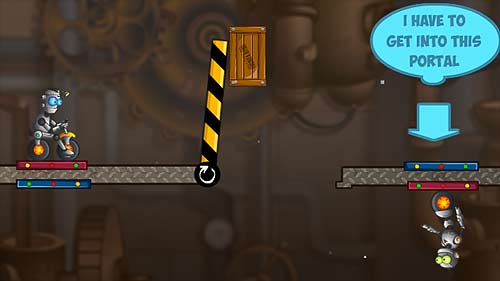 To make things harder, stationary artillery nests along with movable shooting robots start to appear on higher levels. Beside obstacles, you should also worry about not getting caught in artillery fire. If only one robot get killed, you fail. So, it is necessary to make sure they both find their destination, which makes things twice as hard.
Controls
Regardin controls, this game is played only with a mouse (point and click).

You may also like these games