Robo Racing – Transformer Car
Robo Racing is a Transformers game as you can switch back and forth between a car and a robot. Well, despite the first impression, in reality, for the most part you will only be a car. And than, after long 12 missions of driving and racing, dodging bullets, shooting missiles you get to the point when you transform into a robot and get into a fight against the other robot. Probably the boss of the attacking armada.

The idea was to buld a fast paced game based on well known and very popular franchise of Transformers and to make an ultimate all in one pack of racing, shooting, doing air stunts, dogding bulletes, avoiding obstacles and in the end, the boss fight. It's quite a gameplay. There are 12 long missions with lots of action and an option to visit a shop and make some improvements on your vehiecle.

Even the levels are minally repettive. The scenary regulary changes, obstacles are changing as well. So, everything is done to accomodate the player and create a really good gaming experience with trully more than satisfying visuals. It's really hard to pinpoint anything wrong about the game.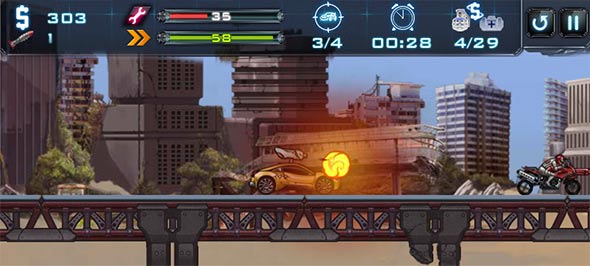 Some key features:
- 16 points
- upgrades system
- 2 super car robots
- long gameplay
- huge game shop

You may also like these games