Proto Bat-Bot
What exactly is Proto Bat-bot. It's a robot specially designed and built by Batman himself in his dark secret bat-cave, to help him in fight against crime in Gotham City on his numerous adventures. Batman is well-known for using gadgets and custom built weapons and vehicles such as batmobile and batcycle, but this time he really excelled himself this time. This robot is a real state of the art, but, he needs some training, and this is why Batman needs your assistance. You should train his robot and teach him how to fight and use his weapons properly. In the main screen there is so-called 'training area' which leads you to a special room where you can get accustomed to the controls. The aim of basic course is to learn basics of movements, attack and to use shield properly. Controls are given inside the game but we will repeat them on the next page so you can check them quickly during game-play.
Customize the appearance
There is an option to customize the appearance of the robot. Parameters that you can change are the main color of the armor, changing various material effects, change the color of light on the armor, and if you like you can use one of 4 presets.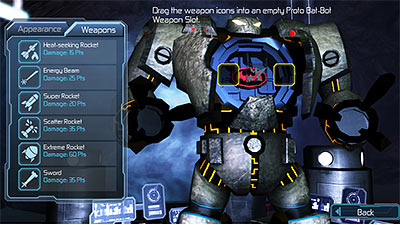 Weapons
The most important customization of the robot refers to weapon choise. The tricky part is that you can choose only 2 out of 6 possible weapons, depending on the fighting strategy you plan to use in battle. Here we list all weapons you got on your disposal along with the level of dagame each weapon is capable of producing. Mainly those are rockets given in the order from the lightest to the more powerful:
heat-seeking rocket 15pts
energy beam 25 pts
super rocket 20 pts
scatter rocket 35 pts
extreme rocket 60 pts
sword 35 pts
Missions
There are 4 missions and all of them are locked except the first one. The rule of thumb is as always to unlock the previous mission to get next one accessible.

You may also like these games