Transformers KRE-O Konquest
Assemble the transformers before its too late - evil transformers threaten once more to destroy human civilization!
What is KRE-O ?
There was mention of KRE-O in article titled 'Prime vs Zombies game' but at that time I didn't explain what KRE-O was. KRE-O is a Lego clone, a toy line of interlocking plastic brick that looks exactly like LEGO. Obviously it is impossible to trademark intellectual property when it comes to this type of toys, because although KRE-O had started 6 years after LEGO, it is not the first and not the last one. We also have MegaBloks, Knex, and Cobi. The factory which produces KRE-O is located in South Korea and its name is Oxford. Hasbro is responsible for marketing, and that is how this game came to be. Anyway, KRE-O is just one of many production lines. There are also 'Star Trek', 'Dungeon & Dragons', 'Battleship' and others...
Where did this game come from? Who is the author?
This is a Hasbro game. Their development team had published over 10 games so far, and you can see and play all of them here. All rights belong exclusively to Hasbro. Transformers Arcade is just a fan site which wants to help to promote transformers and Hasbro company and writes reviews and instructions for games.
What is it about?
While Autobots have peacefully lived in their city Kreopolis, evil Decepticons started a sudden bombing. Bombs have totally disassembled all big Autobots: Optimus Prime, Bumblebee, Ratchet and others. You control the Kreon, the robot made of plastic bricks, whose task is to collect all the pieces and reassemble them, and give a chance to the city to resist the attackers.
That little transformers is doing pushups
The game is rich in small and interesting details. For example, the small KRE-O transformers always comes to the scene in a different vehicle. Sometimes it is in an ambulance and sometimes in a racing car. When he is bored and has nothing else to do, little transformers does some pushups. That is one thing which is characteristic for all games from this series.
Transformers KRE-O Konquest Screenshots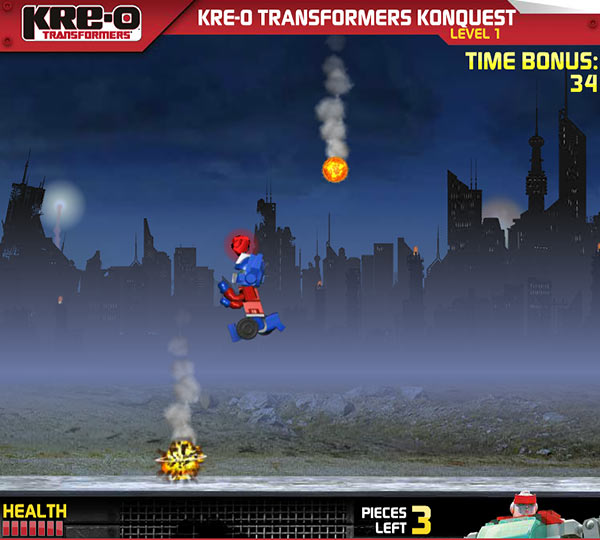 You may also like these games