Transformers Christmas Motorbike Racing
Transformers Christmas is not a real race, it's more like a one man test ride in a mountain harsh conditions. There's gonna be a lot snow drifting, front and back flips, air stunts and jumps, but going in reverse? I really don't see the point of having that as a driving option.
Regarding the gameplay, there's not much to say, really. It's trivially simple as you only need to keep the balance and collect transformers tokens along the road, which serves basically to nothing. You don't get to cash them in, or swap them for upgrades, nothing like that. I mean, it's something we've seen million times so far, and this game is nothing new.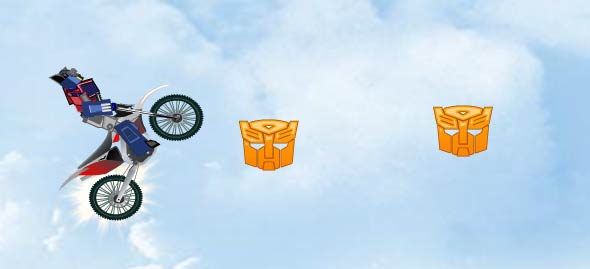 It's well executed though. It runns flawlesly, as expected with such well tested combined with ultra-minimalistic graphics. One bike, Optimus prime and a scrolling background, and that's about it. I could have almost enjouyed the game if there wasn't this tune spinning in the background, repeating itself every 10 seconds or so. It was really annoying.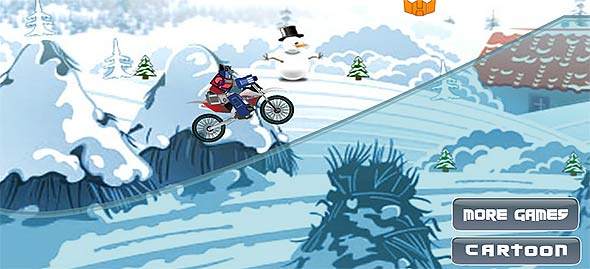 The game is quite easy, I must say, but tipping over is not quite impossible. Generic roads tend to get trickier on higher levels, so just keeping the right arrow key pushed down is not enough to get you to all over to the end in one piece. You'll have to do better than that. But once you get a hang of controlling your bike, getting to an end is a piece of cake. If nothing, the background on level 2 looks different. Transparent ground is confusing and it makes obstacles on surface and road curves much harder to distinguish from the trees and hills in the distance, so watch out!
I must give a big thumbs down for menu controls as there's practically no way to get back to main menu/ level selection screen and choose something else. I mean if you ever wish to go back and play say level 1, the only way around this would be to reload the whole page and basically restart the game, which is not cool. On the other hand, there's a whole bunch of links leading you away from our site which is not cool neither. Good thing though is that all 10 levels are unlocked, by default. That's a good way to explore what the game has to offer. You'll see more of it like that, things like moving bridges, doing some air stunts, and so on..

You may also like these games